I hate mornings. I really really hate mornings. It never fails that no matter how much sleep I get the night before or how much I make it a part of my routine, Waking up at 7:30 always leaves me haggard and drained the rest of the day, whereas sleeping in til 11:00 or noon I feel great after about 20-30 minutes of hating the world. However, if I wake up before that I spend not just a half an hour hating my life and everyone else's, but more like the first 4-5 hours of my day.
Garfield had it right about the morning thing. If there's one thing I fucking hate it's the constant heavy-eyed feeling that won't go away, so you continue to drink and drink and drink your chosen source of caffeine and then, without any warning at all, it disappears leaving you with the biggest jolt of jittery caffeine high known to mankind. I'm not there yet, and I wish I was. I'd want to commit suicide a little less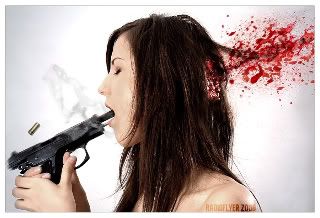 The only thing I hate more than mornings themselves are morning people. The sort of person that pops out of bed like a ray of fucking sunshine and runs through their routine with the vitesse of a prozac popping speed junky and bobs off to work to annoy the rest of civilization desperately trying not to tell everyone around them to go eat a dick. These people make the worst case of cheap mexican restaurant diarrhea seem like a hawaiian dream cruise. There's nothing that makes me a sadder panda than sitting on the porcelain throne screaming for god to kill me now as I shit out my very soul.
What a bitch. I found her basking in the artificial sunlight of some stock photography site and thought "man, she looks like someone i'd like to hit with a brick." For the whore she is, she's a prime example of the elated type that like to tell you what a rough morning it looks like your having when they pop their lively little asses into the cubicle farm every god-forsaken morning. It never fails, one of these arrogantly oblivious whores/bastards/shitheads always pokes their head over/around/under the cubicle wall and chipperly states "HEY THERE!" followed by a Captain Fucking Obvious "Whoa, you look like you're have a tough day." Oh really you shit-eating rectal wart? I'm having a bad day!? What gave you that impression? Was it the "Don't fucking talk to me" that I had tattooed across my face? Or maybe it was the look of utter contempt for your bubbly ass rising over my cube wall reminding me yet again how much I hate the fucking sun?
And as if morning people weren't already the icing on your otherwise delicious cake, you've got to drag your ass out of bed to do what? Work. That's right, you signed up to sell your soul off to the highest bidder one agonizing minute after the other. Some corporate lackey in a corner office somewhere is laughing at you, you stupid bastard, because he owns you. And unlike the slaves of centuries past, he doesn't have to give you food or lodging, or make sure that you don't die. That fat rich bastard knows that you're his bitch, and the next time you make even the most minor fuck-up he's on train with his command of management lackeys that are conditioned to drop by at specific intervals to, each one, call to your attention the UNIVERSE SHATTERING FUCK-UP YOU JUST MADE BECAUSE YOU ENTERED SOMETHING WRONG IN THE CALENDAR YOU STUPID GOOD-FOR-NOTHING RETARDED ASS PIECE OF SHIT EXCUSE FOR A HUMAN BEING.
And all of this before lunch. Fuck my life.
Fuck yours too.
Tags: Mornings